Here is another innovative idea of integrating solar panels onto the mobile device so that it won't run out of juice anytime anywhere. With the solar panels, it will able to convert solar energy to electricity to power up the device continuously. Manufactured in China, the MP4 looks quite stylish as the typical dark surface on solar panel does not affect the overall appearance.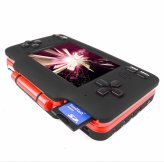 The device has built in 2GB capacity for multimedia storage. If this is not sufficient, user can store the media files with expansion slot of additional 2GB external SD card. Equipped with 3.5-inch TFT screen at 1.6 million pixies, it has excellent display quality for most of the picture format.
Supported audio codecs are quite common ranging from MP3, WMA, WVA, PCM and etc. In terms of hardware interfaces, it features tiny USB port for external devices charging. Unlike normal USB port that takes in power source, this USB is an output port that is able to charge up external device with stepping voltage supply ranging from 4.5V up to 9V.
Surprisingly, the device is claimed to be able to run on Windows OS. It is not only a multimedia device but is also a mobile power station that is ideal for green environment. Priced at only $123, it is good companion to bring along so that all your devices can continue normal operation without power failure.