SanDisk and Sony already have a long and successful history of co-developing and promoting flash memory product and now they are taking it it further. Recently, Sony and Sandisk have jointly announced that the two companies have agreed to a Memorandum of Understanding (MOU) with the intention of developing the SxS (S-by-S) memory card specification, with high-speed transfer technology compliant to the ExpressCard industry standard. The new SxS flash memory card will be made for professional camcorders and non-linear video editing systems. Sony will be the first to adopt the new memory card specification in its "XDCAM EX" series professional camcorders.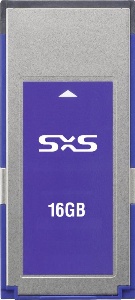 The new SxS memory card specification uses ExpressCard/34 modules (width: 34mm, height: 5mm, length: 75mm), half the size of PC Cards. This enables the design of professional camcorders that are smaller and lighter, while still offering high storage capacities. In addition, the SxS memory card will feature transfer speeds of up to 800 megabits per second. Besides, switching to the ExpressCard standard will allow SxS cards to interface with computers directly through the PCI Express bus.
"Sony and SanDisk share the goal of providing leadership in high-performance, high-capacity recording solutions for professional video. I am proud of the close cooperation we have had with Sony over the years, and I look forward to the exciting new products that SxS memory cards will enable," said Eli Harari, Chairman and CEO of SanDisk. Lastly, the SxS memory card from Sony and Sandisk was initially announced in 16 GB capacity and expected to be available later in 2007.