Sony has just introduced its slim and stylish Cyber-shot T-series cameras which are set to take consumer photography to a new high, especially for people on the go. The new T-100 series maintains the basic design and user-friendliness of older models, but with the added enhancements of new built-in features.
With the 8.1–megapixel camera, the new T-100's design inherits previous T-series models' unique lens lid. But in the new model, the camera body has a sleek brushed metal finish. It is currently the slimmest model to pack in 5X optical zoom to go with its Carl Zeiss Vario Tessar lens and 3-inch LCD screen. This new model is available in stylish red, black and silver.

T-100 is the first compact digital camera series to incorporate a Bionz imaging processor and dynamic range which is able to capture better image quality in higher speed with its fast processing power for quick motion shoots for the accurate moments. Quality photos will be derived by utilizing a higher sensitivity level and improving the noise reduction function. The technology also offers a wider range for obtaining more vivid colours and wider auto-focus for better precision.
T-100 also incorporates face detection technology where the camera can recognize faces and automatically adjusts the focus points and skin tones while the double anti-blur solution tackles both subject movements and handshakes that might occur when a photo is being shot.
Besides the key features highlighted earlier, the T-100 also focuses on the post-capture experiences of users. T-100 comes with some Fun-in-Cam features for users to play around with the tools such as partial colour, soft colour, cross filter, fish eye, etc. to enhance the photo output. Other basic specifications in T-100 include 31-MB internal memory, Memory Stick Duo and Memory Stick Pro duo compatibility, video recording function and USB 2.0 interface.
Priced at US$399.99, try out this digital camera with 5x optical zoom and super steady shot. You'll be suitably amazed.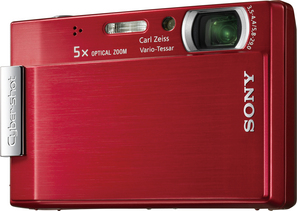 T-100 Series: Red Colour Slimmest Cyber-shot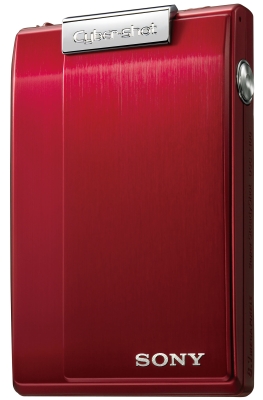 T-100 Series: Red Colour Slimmest Cyber-shot