Sony has set another benchmark in finger print security by rolling out its so claimed 'world's lightest and smallest finger vein reader', namely FVA-U1 in Japan. The Sony's FVA-U1 weighs about 33 grams, measures 70×14.5x58mm in dimension, and is connectable to computer, mobile phone, etc via USB for finger vein authentication. This compact size device applies "Vein pattern recognition" technology, a new biometric method known as Mofiria technology by Sony.



The finger vein pattern recognition security method is different from finger print technology. Since finger veins are inside the body and invisible from the outside, the finger vein patters are difficult to steal or duplicate. The patterns are different from person to person and from one finger to another. Besides, this pattern will not change with age. Hence, this security approach is a more ideal approach compared to finger print and other biometric security methods. The tiny and compact Sony FVA-U1 features a CMOS sensor which will read scattered light through the finger that originates from a near-infrared LED light. The vein pattern data will thence be compressed and sent to the computer for authentication and verification.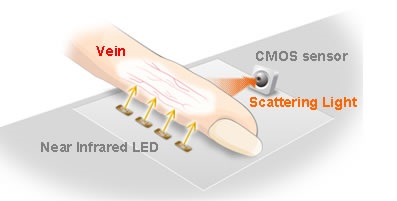 Besides Sony, other electronic giants such as Hitachi have also ventured into this technology. Hitachi showcased its finger vein technology at the Biometric Consortium Conference 2009 in Florida, US, recently. However, Sony is the first to produce it commercially and it will cost about 30,000 Yen on its maiden release on 18 December in Japan.