Sony Ericsson has announced its new MD400 and MD400g USB modems, which the company claims as their first HSPA USB modems combining high speed broadband with M2 Memory Stick Micro and microSD slot in a stylish and attractive design. Both of them can support up to 7.2Mb/s in download and up to 2.0Mb/s in upload speeds.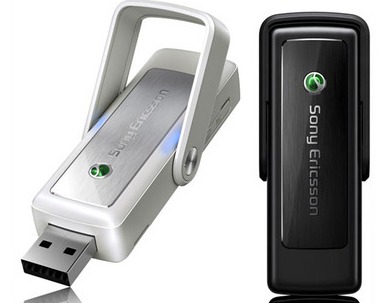 "The MD400 and MD400g are high performance and stylish devices that enable you to have all your essentials at hand even when you are out of reach from broadband at home or in the office. The USBs are simple, quick to install and the multiple technologies guarantee internet access every time," said Johan Tysklind, marketing director mobile computing at Sony Ericsson. "The combined M2 Memory Stick Micro and the microSD slot really makes these products stand out from the crowd and the MD400g even includes a GPS receiver."
Key Features Of Sony Ericsson MD400/MD400g HSPA Modems:
First USB modems with combined M2 Memory Stick Micro and microSD slot
HSPA technology – Up to 7.2Mb/s download and 2.0Mb/s upload
Built-in antenna complemented with an additional swivel 'Diversity' antenna maximizes reception performance and boosts data transmission
Innovative mechanical design allows the swivel antenna to also protect the retractable USB connector when the modem is not in use
USB modem – Can be used in any PC, laptop or desktop
Integrated GPS receiver and GPS utility (MD400g only) which can link directly in to Google Maps and mark current location
PlayNow shortcut link – Just a click away from entertainment
Auto-install & Auto configuration
The new Sony Ericsson Mobile Broadband USB Modem and MD400g Mobile Broadband GPS USB Modem will be available worldwide from Q4 2008, but no words on their prices yet.