Sony Ericsson has debuts its first digital photo frame IDP-100. IDP-100 Digital Photo Frame is the ideal accessory for the Sony Ericsson Cyber-Shot phone owner. With IDP-100, they can easily synchronize and loading pictures from their Cyber-Shot phone or regular camera to the photo frame through variety types of interface such as Bluetooth, USB flash memory, M2 card, Micro SD, SD or MS Duo. It is stylist, convenient, sporty and dark finish with 7″ of photo frame displays. The users can navigating the menu by touch screen that allow viewing the photo in landscape or portrait mode, slideshow and select their favorable option.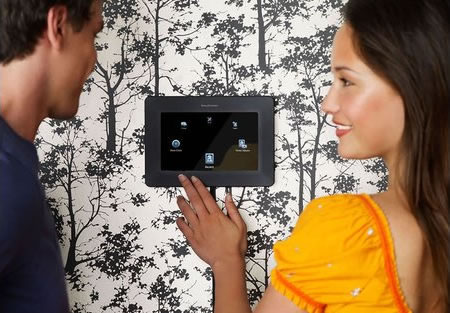 The device also features with Digital Image Correction (DIC) that automatically adjusts the images for color correction, tone enhancement and even edge enhancement. The users can place the device on the desk or mounting it on the wall. The device will be available in the selected markets in Q4 in dark grey.
The specifications of Sony Ericsson IDP-100 Digital Photo Frame:
Size : 7″ LCD Screen
Aspect ratio: 4:3 or 16:9
Viewing angle: 140º (H)/140º (V)
Lifetime: to 50% brightness: 10,000 hours
BrightnessL 200cd/m2
Panel resolutions: 800 X 480 (WVGA)
Pixel density: 0.1905 (H) x 0.1905 (V)
Contrast ratio: 400:1
Connectivity: USB 2.0
Built in memory capacity: 128MB
Weight: 320g for media product without stand
Demensions: W205 x H145 x D25
Compatibility: All phones featuring M2 card, micro SD, SD and MS Duo, USB interface or Bluetooth.