Sony Ericsson Mobile Communication has just unveiled a new USB based mobile broadband modem for business executives that intend to stay connected to outside world anywhere and anytime. Known as MD300, it can be plugged into any standard USB 2.0 Host interface that is so common in today PC market. Easy plug and play and simple setup step has made it the best choice among other competitors' products.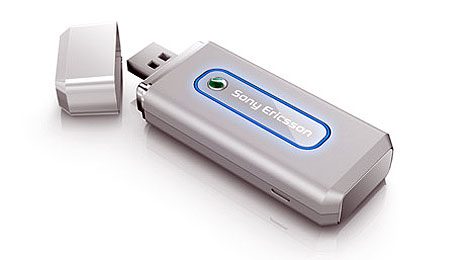 The MD300 has a stylish outlook and is built in compact size measured around 70mm X 32.5mm X 15mm. Unlike most of the bulky broadband modem, it is quite handy (just like USB thumb drive) and can be kept well in pocket whenever you travel around. Good thing is it is almost compatible to any high speed mobile network in the world such as HSDPA, EDGE, UMTS, GPRS and etc. While running at HSDPA network, it allows a maximum downlink speed of 3.6Mbps which is far more sufficient for net surfing and email communication.
The device is supported by current famous Microsoft Windows OS (Operating System) such as Windows 2000, XP and Vista. What is more, it is also compatible with MAC OS. The product will be available in the market by early of 2008. With the best compatibility of networks and OS support, it can be used in almost every countries in the world.