Typically, a complete digital home is likely to consist of multiple set-top boxes that being used to decode and display the digital TV signals on huge LCD screen. It may looks messy with various cabling running across your TV cabinet and if you are looking for a neat solution that integrates those decoding modules into the TV system itself, then the latest BRAVIA HDTV (High Definition TV) models released by Sony may able to suit your requirement.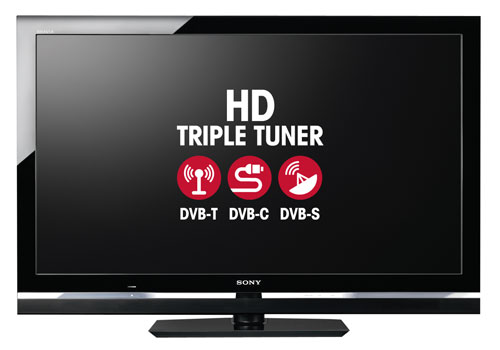 There are three models being announced, namely V5800, W5800 and Z5800 and all of them are having one unique feature in common – they are being designed with embedded digital TV tuner module that can be tuned to receive DVB-S2 satellite signal, DVB-T (over-the-air terrestrial) and DVB-C (cable) with various channels available in either SD (Standard Definition) or HD (High Definition) resolutions. On the other hand, the refresh rate (besides pricing) is the major differentiation with V5800 features a conventional 60Hz display, while W5800 at 100Hz and Z5800 stays on top of the series with 200Hz display panel. Similar to some other series, they are enhanced with internal light sensor that can automatically adjust the screen brightness based on ambient lighting to conserve energy. Some other specifications include four HDMI input ports and a USB port as well as DLNA support that allow media streaming directly from PS3 or other networked systems.
No pricing and availability yet, these new series will be available in Austria, Germany and Switzerland especially suitable for those that are having space constraint living room but still would like to fit in a huge LCD TV with necessary RF (Radio Frequency) module support.