The Japan-based consumer electronics giant, Sony has introduced its new wireless VAIO CP1 Wi-Fi photo frame, which utilizes built-in Wi-Fi technology, making it easier than ever to share valuable digital photo as well as receive news headlines and stream Internet radio in real-time.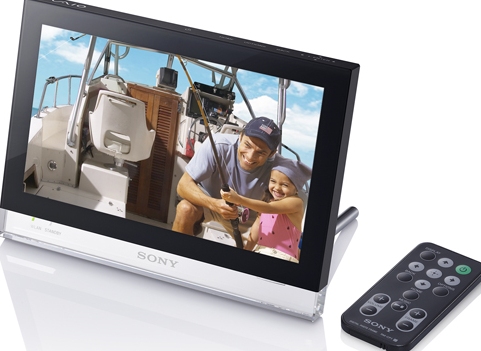 "How many times have you uploaded images to your PC — vowing to share them — never to see them again," said Xavier Lauwaert, product manager for VAIO product marketing at Sony Electronics. "This new frame provides an easy way to retrieve and share these precious memories that otherwise would have been forgotten."
Highlights Of Sony VAIO CP1:
Brilliant 7-inch LCD screen (16 million colors and 800×480 resolution)
Integrated Wi-Fi technology allowing users to stream images from VAIO PC and connecting to Google Picasa web albums
128MB internal memory storage (save up to 100 digital images)
Compatible with SD cards, CompactFlash and Memory Stick media
Built-in RSS (Really Simple Syndication) reader enabling VAIO CP1 to grab news headlines and entertainment content from Internet and display it along with your slideshows
Built-in stereo speakers and Internet radio player for enriching slideshows with your favorite style of music
Performs as digital/analog clock
According to Sony, "The CP1 model can also connect to Google Picasa web albums. This enables you to view up to four web albums simultaneously, as well as upload photos directly to a Picasa account."
The new Sony VAIO CP1 digital photo frames that able to save energy by dimming the screen automatically when room's lights are turned off is expected to hit the market by mid-October 2008 for about $300.