Sony recently has released new E-series Walkmans – NWZ-E35 (2GB), NWZ-E436 (4GB) and NWZ-E438 (8GB). Each device has a 2.0 inch QVGA LCD that capable of displaying 262,144 colors and best of all, the device is only 8.5mm slim with weighs 50g. It also features with FM tuner and codec support for MP3, AAC, WMA and Linear PCM files. The players will be available in different capacities of 2GB, 4GB and 8GB with various color options for each model except NWZ-E438 which only come in black. The 2GB NWZ-E435 will be in black and pink and 4GB NWZ-E436 will be available in black, blue, red and pink.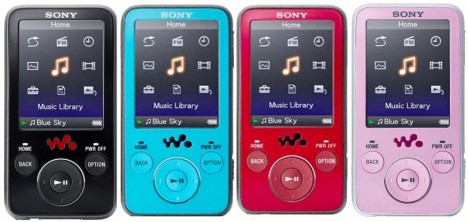 The player battery life for music is rated as below:
1150 songs/76 hours 40 minutes (48kbps)
885 songs/59 hours (64kbps)
440 songs/29 hours 20 minutes (128kbps)
220 songs/14 hours 40 minutes (256kbps)
175 songs/11 hours 40 minutes (320kbps)
The player battery life for video is rated as below:
7 hours 10 minutes at 384kbps video
4 hours at 768kbps video.
The transferring of music is easy for each device by drag and drop. It's also compatible with Windows Media Player and iTunes. The device should be shipping to worldwide soon, may be next month or the month after.