If you are the people who cannot keep away from TV, must always in front of television, Sony XDV-100 will definitely taken care of your needs. The good news is that Sony introduces the XDV-100 portable pocket-size 1seg digital TV and AM/FM radio in Japan. 1seg, named so because only remaining one segment (13th) is used for mobile receivers of each channel, is a mobile terrestrial digital audio/video and data broadcasting service in Japan. Each terrestrial digital broadcast channel is divided into 13 segments (plus one segment for separating channels) with HDTV broadcast occupies 12 segments.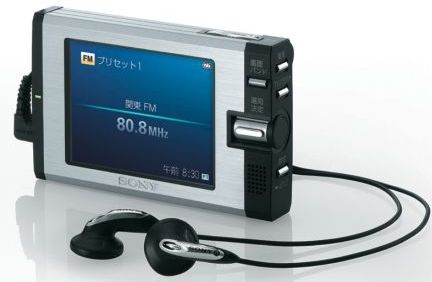 Sony XDV-100 comes in black and siver color, and the measures 98.3×61×15.1mm, with the sleek TV weighs only 110g. It sports a 2.83 inch TFT screen with QVGA resolution, EPG, built-in speaker and earphone jack. The on board Lithium Ion battery of Sony XDV-100 can support 5 hours of TV viewing and 25 hours of radio.
However you don't get a color display for just listening to radio as the XDV-100 packs in a 1 Seg TV tuner too so you can catch up your favourite TV programs on the move. Unfortunately it does not have internal memory so you cannot record TV programming.
Sony portable 1seg digital mini TV XDV-100 will go on sales in April 10th and the price of XDV-100 supposed to be approximately 40,000 Japanese Yen (around $343).