Sony has expanded its new E-Reader family with the highly-anticipated wireless Reader Daily Edition, which features 7-inch wide touch screen display (portrait or landscape orientation) with 16 levels of grayscale, attractive aluminum body with built-in cover for durability, and free wireless 3G connectivity to give users an access to Sony's eBook store via (US) AT&T's 3G mobile broadband network.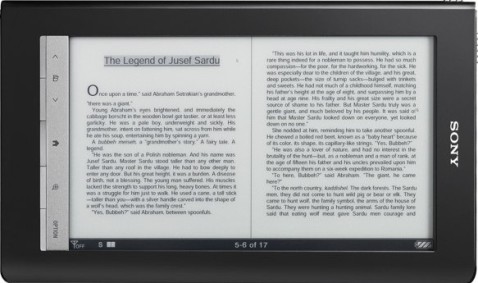 According to Sony, around 30-35 lines of text are visible in the portrait mode, to make the experience very similar to that of a printed paperback book, just as what you see in the photo. In addition, Sony Reader Daily Edition also boasts enough internal memory to hold more than 1,000 standard eBooks, plus memory expansion slot aimed for holding even more eBooks.
"We firmly believe consumers should have choice in every aspect of their digital reading experience," said Steve Haber, president for Sony's Digital Reading Business Division. "Today, we take another large stride to deliver on that promise. We now have the most affordable devices on the market, the greatest access to free and affordable eBooks through The eBook Store from Sony and our affiliated ecosystem, and now round out our Reader offering with a wireless device that lets consumer purchase and download content on the go."
The new Sony Reader Daily Edition that incorporates Sony's award-winning industrial design and E Ink Vizplex electronic paper display will hit the market in December 2009 for $399.