Displaying Internet contents directly on a huge screen TV is a next big thing in consumer market. In view of high market demand, Sony has developed a portable IP based STB (Set-top box) that can hook onto its Bravia series HDTV to enable media content streaming directly to the TV without the need of additional media box. Named as DMX-NV1, it is featured with Sony proprietary DMeX connectivity that can stream HD (High Definition) media contents seamlessly from broadband service provider and display directly on digital TV.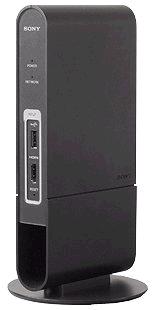 The DMX-NV1 which measured at only 6.5 inch X 1.25 inch X 4 inch and weighed only 3 lbs 8oz can be installed at the back panel of the flat screen TV set to turn a conventional TV into network capable TV. Surprisingly, it only consists of limited interfaces such as DMeX, HDMI, Ethernet and an power input that makes the whole setup easier with less cabling crossing in digital home. That is not all, it is claimed to be able to support HD (High Definition) resolution of up to 1080i, which is high enough in view of most of the media contents are still in lower resolution due to broadband service limitation.
The device will be running on an open source Linux Kernel 2.4.30 and will be able to support a variety of Sony eco-partners' websites such as YouTube, Epicurious.com and etc. Priced at only $300, it is one of the must have networking devices in your living home.