The well known consumer electronics giant, Sony has announced the launch of its new premium X-series Walkman player. It's a portable Wi-Fi enabled entertainment device which features 3-inch OLED (Organic Light Emitting Diode) touch screen with 180-degree viewing angle, embedded content provided by Slacker Radio and YouTube, Sony's Digital Clear Audio Technologies, and integrated DNC (digital noise canceling) software engine to eliminate ambient noise, accompanied with premium 13.5mm EX noise canceling headphones, aiming to provide users a high-grade audio experience.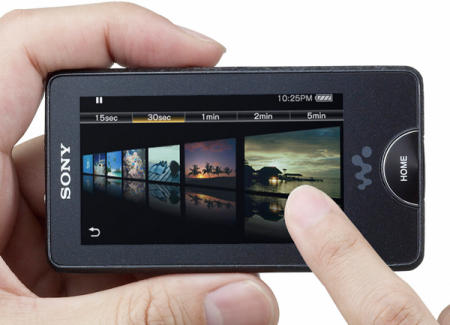 "The new X-series leverages Sony's engineering heritage and integrates the latest advances in OLED and other innovative technologies," commented Andrew Sivori, director of the audio products business, Sony Electronics. "We focused on enhancing audio and video playback to develop a device that allows consumers a deeper, more interactive way to enjoy content, as well as discover new content, for a truly unique entertainment experience."
According yo Sony, the X-series Walkman that incorporates superior battery life up to 33 hours of music playback or up to 9 hours of video playback can support popular audio and video codecs including protected Windows Media Video (WMV) files, AVC Baseline (H.264) and MPEG-4.
The new Sony X-series Walkman video MP3 player that available in two different storage capacities, the 16GB NWZ-X1051 and 32GB NWZ- X1061, will hit the market in mid-June 2009 for $299 and $399, respectively.