Sound ID has announced the launch of its latest Bluetooth headset – Sound ID 400 Personal Sound System, which combines PersonalSound, Environmental Mode and NoiseNavigation impressive features in a single device. Compatible with Sound ID CompanionLink Remote Microphone, the small clip-on device which measures a mere 2-inches in size, syncing with Sound ID 400 to enhance the clarity of speech in variety of communication situations.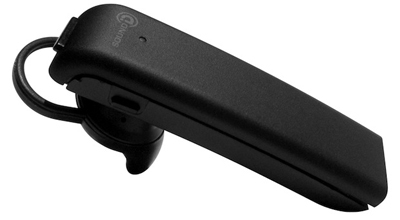 "The Sound ID 400 showcases the innovative audio capabilities that our headsets are known for and kicks it up a notch with Environmental Mode and compatibility with the CompanionLink Remote Microphone," said Michael Jones, President and CEO of Sound ID. "Together, the Sound ID 400 and CompanionLink create a new Personal Sound System that elevates the traditional Bluetooth experience by improving speech intelligibility and aiding in clear conversations – whether on or off the phone."
Key Features Of Sound ID 400:
PersonalSound consists of 3 custom listening modes tuned to the most common hearing preferences to further enhance speech clarity and boosting listening power without raising the volume
Environmental Mode enables users to hear equally out of both ears in-between calls
NoiseNavigation utilizes multiple microphones and special DSP algorithmsremoves background and wind noise while boosting speech for clear conversations
Multi-Point Technology enables users to securelyconnect with two Bluetooth-enabled mobile phones, such as a work and a personal phone
Automatic Volume Control seamlessly adjusts to changing environments and variable noise situations
Compatible with the optional Sound ID CompanionLink Remote Microphone, which syncs with the Sound ID 400 and can be worn by a conversation partner or placed near a sound source to pick up audio at its origin for a richer sound experience
Latest Bluetooth version 2.1+ EDR and eSCO improves the transmission sound quality
Powerful Battery Life supports up to 7 hours talk time or up to 200 hours (8 days) of standby time
Come with universal AC charger (100-240 VAC), USB charging cable, 3 sizes of RealComfort EarLoops and Ear Hook
The new Sound ID 400 which measures 53.5 x 15.5 x 7.5 mm and weights just 8 grams is scheduled to hit the market in Q4 for approximately $130, while the Sound ID CompanionLink Remote Microphone that supports up to 10 hours of talk time will be available by Q4 2009 for around $80.