Soundmatters International Inc. has launched its technologically advanced audiophile-grade portable stereo loudspeaker system, dubbed as foxL, which the company describes as the first pocket-sized music system good enough for audio purists, available with Bluetooth (foxLmb) and non-Bluetooth (foxL) versions.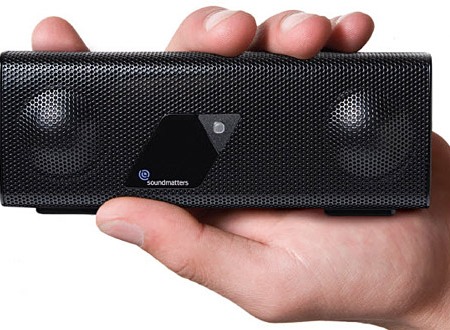 "foxL is a direct result of our founder, Dr. Godehard Guenther, having traveled extensively over the last few years," said Lee Adams, soundmatters' Vice President of Sales and Marketing. "One thing he noticed is that there are no audiophile-grade portable speaker options for travelers who want to enjoy music while on the road."
"Conventional wisdom dictates that full-range sonics are not possible from a console the size of a candy bar, but Dr. Guenther believes that deviation from the norm is essential to creative and successful product development," added by Adams. "With foxL, he knows that he isn't the only music lover who would appreciate better sound in hotel rooms or other limited space environments. Simply put, he designed a portable speaker that he himself had wanted."
Features Of Soundmatters foxL:
High-resolution fidelity, pocket-sized portability
Rechargable Lithium-ion BassBattery lasts up to 5 hours of battery life on a single charge
Output for optional powered subwoofer
Listen wirelessly (foxLmb with Bluetooth 2.0 ADP2 compatible
music device) or connect to any music source via standard audio cable
Phone conferencing/hands-free speakerphone (foxLmb with Bluetooth compatible phone or computer)
The new foxL music system includes two Linear Magnetic Drive Twoofers (tuned to 100Hz) which features field-focused, back-to-back, dual Extreme-Energy neodymium magnets and bifilar, 1-inch dual voice coil.
The Soundmatters foxL portable music system which measures 5.6 x 2.2 x 1.4 inches are priced at $179 and $249 (with Bluetooth connectivity), respectively.