The provider of innovative e-reader solutions, Spring Design has announced the first Google Android-Based e-book reader to incorporate full Internet browser capabilities (over Wi-Fi or mobile networks) and patented dual screen interaction technology (Duet Navigator) – Spring Design Alex, which features earphones, speakers, SD memory card slot, 6-inch E-Ink EPD (electronic paper display), and 3.5-inch color touchscreen display that supplements as well as enhances original text with web-based or linked multimedia content including video, audio, photos and notes, bringing readers to a whole new level of reading experience.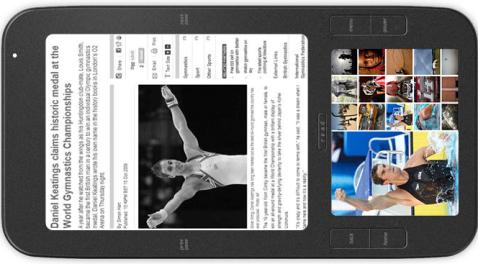 "This is the start of a whole new experience of reading content on e-books, potentially igniting a whole new industry in multimedia e-book publishing for secondary authors to create supplementary content that is hyper linked to the text. We are bringing life to books with audio, video, and annotations," said Dr. Priscilla Lu, CEO at Spring Design. "This gives readers the ability to fully leverage the resources on the Web, and the tools available in search engines to augment the reading experience."
No words on the pricing and availability date of Spring Design Alex eReader yet.