The well-known telecommunications company, Sprint has announced the new Novatel Wireless MiFi 2200 Intelligent Mobile Hotspot device, which allows users to connect to the Internet by bridging WiFi-enabled devices to EVDO Rev A Sprint Mobile Broadband Network, aiming to enhance your multimedia experience.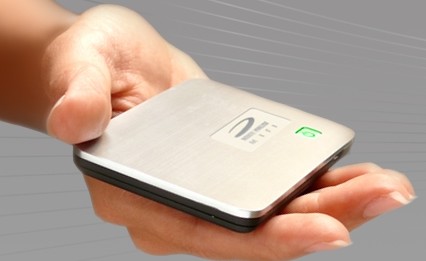 "You can hold the MiFi 2200 in the palm of your hand, slip it in your pocket, even place it on a beach towel if you're lying under the sun and wirelessly connect your laptop, MP3 player and gaming device to the Internet all at once," said Steve Elfman, president of network, wholesale and product, Sprint. "Now customers will be able to use one mobile broadband device – the MiFi 2200 – to connect multiple personal devices or multiple users. If I have a WiFi-enabled device, I don't need to find a WiFi hotspot. The MiFi 2200 creates one for me."
Highlights Of Novatel Wireless MiFi 2200 Intelligent Mobile Hotspot
Provides mobile broadband Rev A Internet access wirelessly
Supports up to five WiFi-enabled devices
Simple to connect with Hands-Free Activation (OMA-DM), eliminating software installation
Advanced security through WPA2-PSK, WEP and SPI Firewall
Universal Wi-Fi compatibility
MiFi GPS capabilities take advantage of select location and mapping applications, including getting driving or walking directions or finding best restaurant nearby
Supports up to 4 hours of usage time or 40 hours of standby time on single charge
The new Novatel Wireless MiFi 2200 mobile hot spot device which measures 3.50″x 2.32″ x 0.35″ and weighs just 2.05 oz is slated to be available for $99.99 (after $50 mail-in rebate and a new two-year service contract) starting first week of June 2009. According to Sprint, the service plans for Novatel Wireless MiFi 2200 include $59.99 per month mobile broadband only plan and $149.99 per month Simply Everything Plan + Mobile Broadband (both of them have a 5GB data cap and will charge 5¢ per megabyte for overages).