Sprint has announced the launch of new compact Overdrive Pro 3G/4G Mobile Hotspot 4G-capable device from Sierra Wireless, which is designed to connect up to 8 Wi-Fi enabled devices to high-speed Sprint 3G or 4G network at the same time, such as notebook, tablet, smartphone, gaming console, e-reader and so on.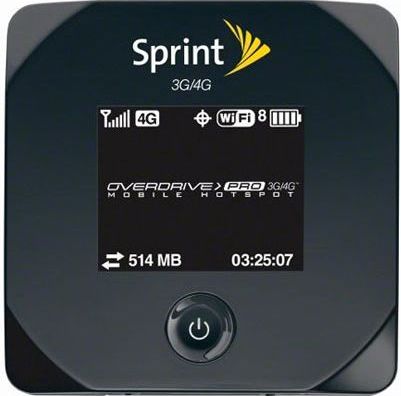 Key features of Overdrive Pro 3G/4G Mobile Hotspot:
Connects up to eight Wi-Fi enabled devices simultaneously
Up to 150 foot range of Wi-Fi connection
35% improvement for power-up and power-down times compared to its predecessor
(45% larger) Built-in LCD display with wider viewing angle shows valuable information through simple UI
External antenna ports for used with the optional docking station
Ultimate protection thanks to the built-in security out-of-the-box
Shared microSD storage, location-based services and GPS support available for connected Wi-Fi devices
"Overdrive Pro, combined with the power of Sprint's 4G network, is a valuable tool for both consumers and business users looking for the best way to stay connected on the go," commented Dan Schieler, senior vice president and general manager for Mobile Computing at Sierra Wireless. "It's remarkably easy to get up and running, and with support for eight Wi-Fi connections and a range of up to 150 feet, it's equally useful to a remote work team sending reports and presentations back to the office as it is to a varsity team posting highlights from their winning game."
Sprint Overdrive Pro 3G/4G Mobile Hotspot by Sierra Wireless that sports Wi-Fi 802.11n connectivity will hit Sprint stores on March 20 for around $50, after a $50 mail-in-rebate with a 2-year contract on Sprint 3G/4G Mobile Broadband Plan starting at $49.99 a month.