The leading maker of gaming peripherals and accessories, SteelSeries has announced the successor to its award-winning Siberia Headset, dubbed as Siberia v2, which features an 'invisible' retractable microphone system, built-in volume control and large 50mm speakers that amplify the bass and overall volume, as well as improve the frequency response to 10-28,000 Hz, delivering superior sound isolation, greater comfort and enhanced design for gamers and music enthusiast.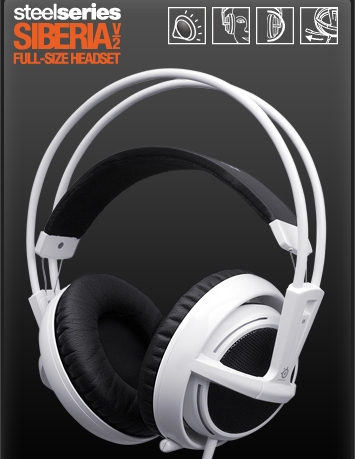 "Every element of the Siberia v2 has been optimized for pro-gaming, making this headset a preferred piece of equipment for the world's best competitive PC gamers," said Bruce Hawver, CEO for SteelSeries. "What's even more impressive is that the headset is multifunctional with its ability to deliver an unparalleled audio experience for music lovers and VOIP users."
Highlights Of SteelSeries Siberia v2:
Close type ear cups feature thick leather padded cushions built from sound dampening foam, aiming for outside sound isolation
25% larger 50mm driver units compared to signature Siberia headset
Retractable, virtually invisible uni-directional microphone for added convenience
Crystal clear high, low and mid-tones
Lightweight suspension construction
Integrated volume control located on the cord
Dimensions: 270 x 240 x 120 mm ; Weight: 680 grams
The improved multi-functional SteelSeries Siberia v2 full-size headset that offered in two versions – with and without a virtual surround 7.1 USB soundcard (delivers a consistent sound experience), will be available worldwide in November 2009, but the price has yet to be announced.