ARM processor is monopolizing smartphone market with more and more powerful SoC (system on chip) being developed based on it. And in order to stay competitively in this market space, STMicroelectronics, one of its licensees has unveiled a new SoC under SPEAr family. Named as SPEAr1310, it is dubbed to be the industry first SoC that features with two Cortex-A9 cores with excellent DMIPS performance while sustaining lower power consumption suitable for power hungry applications.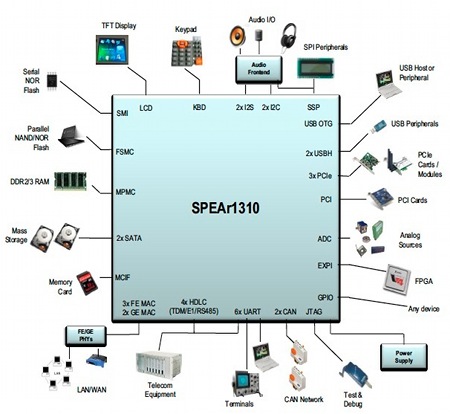 With each of them clocking at 600MHz, the dual core ARM Cortex-A9 SoC is equipped with 32kB L1 cache as well as sharable 512kB L2 cache. Capable to handle 3000 Dhrystone MIPS, it is more than sufficient for processing normal tasks and even high performance embedded control applications. Besides, it has dedicated DDR2/DDR3 memory controller that can support up to 1GB of RAM usage. In terms of connectivity, it is equipped with quite a comprehensive lists of connectivity including Gigabit Ethernet (2 ports), PCI Express 2.0 (3 ports), USB 2.0 (2 ports), USB 2.0 OTG (On the Go), UART (6 ports), I2C (2 ports), SATA gen2 (2 ports), legacy PCI for industrial control as well as CAN 2.0 interface for automotive industry.
No pricing information yet, the 23x23mm PBGA SoC is already available in sampling stage now for some early customers and it is expected to be compatible with both Linux and Windows CE Operating Systems targeted for various segments such as smartphone, handheld devices and embedded markets.