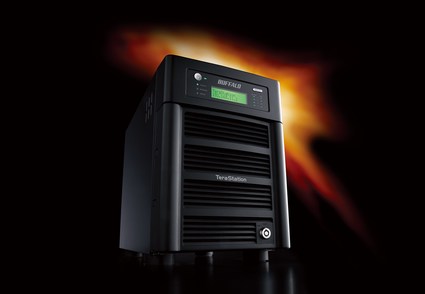 For small office home office (SOHO) users and small & medium sized enterprisers, budget is always a major constraint in business set up and expansion. SOHO users and small & medium-sized enterprisers are always looking for user-friendly and budget technology products as they might have limited computer knowledge and financial means.
If you are in the above category, perhaps Japanese technology equipment provider and global leader in the design development and manufacturing of networking solution, Buffalo, can help you. Buffalo has came up with a range of storage and networking products that aims to help SOHO users or small & medium sized enterprisers. These products are user friendly and easy to set up and manage.

For instance, Buffalo offers you TeraStation Pro storage solution for your home network. The TeraStation Pro features RAID 1/5/10 (across 4x disks), 38MB/s transfer rate (Raid 5), gigabit Ethernet, Active Directory integration, integrated UPS and 2x USB 2.0, etc. It also doesn't require too much computer knowledge to install and set up. For external hard drive, the Buffalo also offer its DriveStation series which features plug and play function for installation. Buffalo's wireless networking products such as AirStation G54 high power wireless cable/DSL smart router, Wireless-N Nfiniti™ Dual Band, etc. are very useful for SOHO users.
SOHO users and small & medium sized enterprisers can find out more from this network solutions provider especially for SOHO and SME markets.