Even though newer and more sophisticated monitors are being unveiled in the market nowadays, many people still prefer the TV to the monitor screen. Playing games, browsing the internet or watching video clips using your favorite huge and flat screen TV somehow gives you a different enjoyment. For this, you can easily connect your computer to your 40-in LCD display. However, sometimes you could be quite frustrated with cables hanging around and the inadequate length of the cable to connect the two devices. For easy connectivity, IOGEAR offers users its wireless solution via the GUW2015VKIT Wireless USB to VGA Adapter kit.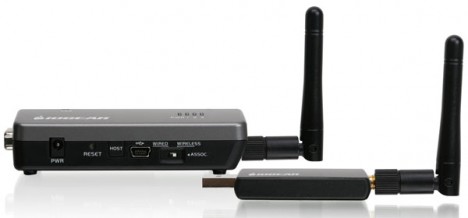 The IOGEAR Wireless USB to VGA Adaptor kit consists of an USB adapter and a VGA adapter. The setting up of these devices is pretty simple. Users just need to connect the USB adapter to the PC and the VGA adapter to the VGA display besides a simple installation of the driver software attached to allow users full and seamless enjoyment of laptop or computer content on a remote monitor. Users can play computer games, watch video clips from YouTube or browse the Mydigitallife postings up to 30 feet away from the screen.
The kit allows high-definition video streaming up to 720 pixels from a desktop or computer and supports resolutions up to UXGA (1600 x 1200 pixels) or WSXGA+ (1680 x 1050 pixel). Other features of this kit include certified Wireless USB 1.0 compliant and WiMedia 1.0 MAC and 1.1 PHY compliant.
The IOGEAR Wireless USB to VGA Adaptor kit requires Microsoft Windows XP or Microsoft Windows Vista and does not connect with Wi-Fi or Bluetooth. This pocket size gadget is small and can be easily carried along while traveling or on the go. With $210, the device will certainly bring a lot of enjoyment and fun to game enthusiasts and couch potatoes.