The world's leading maker of Flash storage solutions and DRAM memory modules, Super Talent has announced the launch of its new SATA Mini 2 PCIe SSDs that offers up to 64GB memory capacity, which the company claims as the world's fastest SSDs for ASUS Eee PC 900, 901, 901A, 901 GO and S101 netbook PCs upgrading, available with both MLC and SLC flash memory.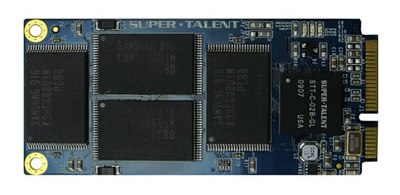 The MLC version of the SATA SSD is available in 16GB, 32GB, and 64GB capacities, supporting sequential read speeds up to 150 MB/s and sequential write speeds up to 100MB/s. While the SLC version is just available in 16GB and 32GB capacities, delivering read speeds up to 170 MB/s and write speeds up to 130 MB/s.
"We were the first company to enable users to upgrade their Eee PCs with our SATA Mini PCIe," said Jeremy Werner, Sr. Product Marketing Manager, Super Talent. "Now we have increased read performance by 50% and nearly doubled write performance with the second generation SATA Mini 2 PCIe SSD."
The 16GB (FPM16GLSE), 32GB (FPM32GLSE) and 64GB (FPM64GLSE) MLC-based SATA Mini 2 PCIe SSDs that feature SATA-II (3Gbps) interface are available for MSRP of $85.99, $125.99 and $219.99, respectively.