SSD (Solid State Device) is trending towards replacing magnetic based hard disk drive but typically, its capacity and pricing is still not comparable with conventional hard disks. Good news now, Super Talent has unveiled one of the largest RAIDDrive SSDs in the world targeted for server and high end gaming segments.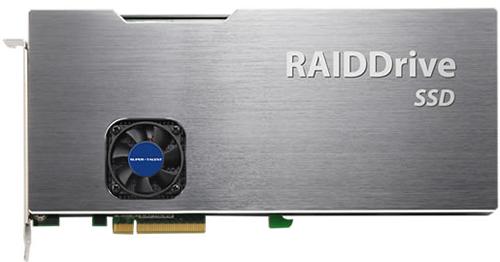 There are three series of RAIDDrives being tailored for different requirements, namely RAIDDrive ES (Enterprise), RAIDDrive WS (Workstation) and RAIDDrive GS (Gamers). While the ES and WS version is based on SLC flash maximize up to 1TB only, the GS version is designed with MLC that can reach up to 2TB capacity, offering more performance needed for gaming segment. Besides, Super Talent's SSD is featured with a PCI Express 2.0 X 8 interface and can boost up to 4GBps bandwidth which is ten times and five times faster than SATA-II and SATA-III interfaces respectively. Being designed specifically and optimized for NAND flash memory, it can support a sequential read and write speeds up to 1.4GBps and 1.2GBps respectively.
However, pricing is still a huge gap and those who would like to get this extremely huge SSD may have to wait a bit longer since it will be retailed at $4999 for GS version at 1TB and may only be affordable by enterprise's users.