SUPERAntiSpyware Professional, as its name implied, is a anti-spyware and anti-malware software application for Windows operating system. SUPERAntiSpyware can detect and remove spywares, adwares, Trojans, dialers, worms, keyloggers, hijackers, parasites, rootkits, rogue security products and many other types of threats.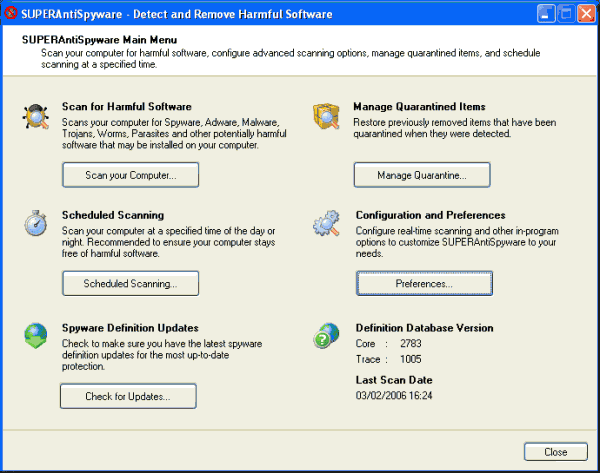 SUPERAntiSpyware Professional can be used in parallel with any existing anti-virus or anti-spyware product, yet it provides real-time scaning and blocking of threats. Together with First Chance Prevention, which checks over 50 critical points on the system during system startup and shutdown, SUPERAntiSpyware prevent malicious software from installing or re-installing, and eliminate the threats before they have a chance to infect or infiltrate the system.
SUPERAntiSpyware promises to not slow down the system by been light on system resources and includes a unqiue Repair System which able to repair broken Internet connections, desktops and registry keys etc.
SUPERAntiSpyware has a free edition which provides on-demand scanning and removal of malware and spyware. SUPERAntiSpyware Professional is an advanced edition, and normal retail price tag is $29.95 which comes with license valid for one year subscription for program updates and definition updates. For additional $9.95 one-time fee, customers can upgrade to a lifetime subscription license, which provides free program updates and definition updates for the life of the product.
My Digital Life is giving away 30 licenses of SUPERAntiSpyware Professional with a genuine and valid registration serial number. Best of all, the license of SUPERAntiSpyware Professional is lifetime license, entitling to lifetime free upgrade.
To earn a chance to win one of the SUPERAntiSpyware license, just post a reply in the thread. All replies must be posted on or before 23:59 PM on May 25th, 2011, according to comment posted time (UTC+8). You can post as many replies as you like to increase your chance of winning. Comments of spam nature will not ignored.
A valid email address must be entered on the "Mail" field. Do not post email address inside comments to avoid spam. Winners must allow his or her email address to be given to the sponsor for product delivery.
Thirty (30) winners will be selected randomly, with each entitles to one lifetime license of SUPERAntiSpyware. Each participant entitles to one license only.
Contest closed. Winners are Aleksandar Gonovski, Azmi, vince, Ivan Kolevski, charles tunis, Andre, Maasclat Pete, Fred Major, Graphicsguy, Ovidiu, John Paulo, thomas cole, Celestine Boyd, Akiralast, cye91780, Jossi, John Lucas, alex19100, Sohail Shaikh, Marsiano, Simon S., Abby, Johnny Hempseed, IanS, Tede, ME, avis, IKHINE ANDYMARIE, makehappy and taipva.
My Digital Life's decision is final, and My Digital Life reserves all rights to change any terms and conditions without prior notice. Do check out more free giveaways available at My Digital Life.