Most of the digital photo frames available in the market are pretty simple in design and feature. They can be connected to the internet for photo uploading and they display digital images as a slideshow at an adjustable time interval. Besides, they allow photo printing and transfer via USB port. In a breakthrough, the OEM manufacturer SilverPac has broken the trend of typical and conventional digital photo frames by unveiling its latest advanced digital photo frame, SilverFrame, at the recent Computex tradeshow in Taipei, Taiwan.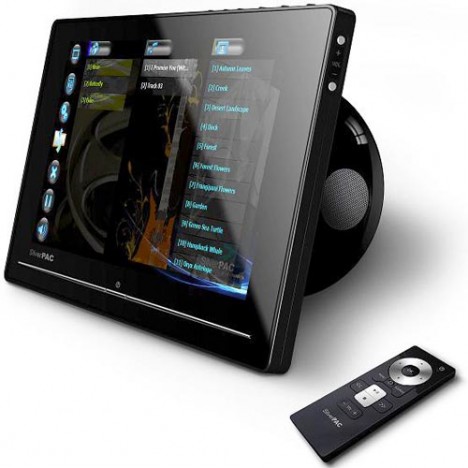 The SilverFrame has a slightly bigger display compared to the standard 7 inch digital photo frame. Its 10.1-inch screen offers 1024 x 576 display resolution and is able to show JPEG, TIFF, GIF, and BMP format images. SilverFrame is powered by Freescale i.MX27 processor and it is both WiFi and Bluetooth 2.0 enabled. The digital photo frame runs Windows CE 6.0 R2 with 512MB RAM and supports Microsoft applications such as Live FrameIt and Windows SlideShow.
Via the WiFi connectivity, users can download photos from the internet including social networking sites such as Facebook, Windows Live, etc as well as photo sharing sites such as Picasa, Photobucket, etc. Besides downloading photos, this advanced digital photo frame also allows users to read email, surf net, access instant messaging clients, and so on. With the built-in twin 3-watt speakers, users also can enjoy music and watch video available in the internet via the photo frame. Other features available from the Silver Frame include multicard reader and micro USB ports to import images from other sources; and a rotation sensor which can adjust photos automatically when users rotate the frame.
Undoubtedly the advanced SilverFrame is quite interesting and feature rich. However, many users may think the photo frame is ostentatious rather than practical. After all, if you have a netbook or laptop, would you really need to use the photo frame to surf the net? There is no pricing detail for this product at this point of time.