Web based Internet connected TV is a new trend with media contents directly streamed from service provider through broadband service. And in order to equip such capability into next generation digital TV, it may also means that the future digital TV could be preloaded with selected Operating System to make it more feature-rich with easy scalability. Just recently, A Swedish company, named as People of Lava has announced an Android based digital TV for consumer world. Named as Scandinavia TV, it is claimed to be the first Android operated platform TV solution in the world, extending the famous OS usage beyond smartphone and netbook markets.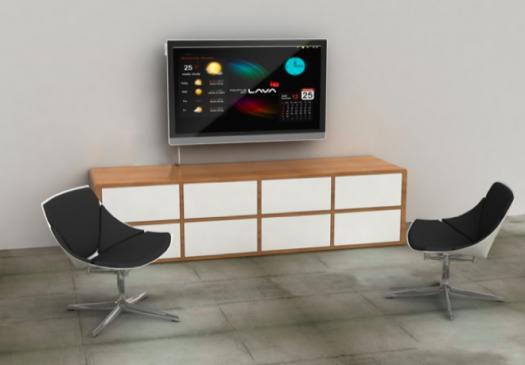 While its hardware specification is still not yet finalized, the next generation digital TV is expected to run any applications just like those that can be loaded on Android PC. From out of the box, it comes pre-loaded with famous applications such as Internet browser, YouTube, Facebook, Google Maps, Twitter, Mail and many more that make it a truly powerful all-in-one TV set for digital home. That is not all, additional Android compatible Apps (available in both free and paid versions) can be downloaded from its Lava App Store just like normal PC or smartphone products. And to make the web browsing and navigation simpler, it does come with wireless keyboard that may no surprise similar to typical conventional PC systems except re-packaged into more sleek and stylish design suitable for living home.
The first model is expected to equip with 42-inch HD (High Definition) LED screen, with follow-on models planned with even larger screen at 47-inch and 55-inch. At a suggested retail price between €2000 and €2500 (for 42-inch model), the new TV will be available in September this year for selected users as part of early beta test program with more and more service and content providers being planned to ensure full rich media contents delivered to home users seamlessly.