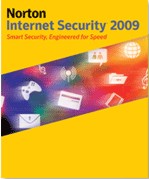 Symantec Corporation has officially released its Norton Internet Security 2009. This new security has seen substantial improvements done based on users' feedback and comments on its predecessors. In line with Symantec's mission to make the security application "Faster & Lighter", users can observe that the new interface as well as the entire installation process have been streamlined and simplified. It just takes a few minutes for user to complete the whole process.

The new Norton Internet Security 2009 has also improved its security features and performance. Even with new features added, this smart product doesn't slow down the users' system. Every security process will be conducted at the background and it wouldn't utilize a large capacity of memory during the scanning or tracking. The following is a summary of some key features in this release:
• Proven fastest security suite available
• Pulse updates for up-to-the-minute protection-Delivered every 5 to 15 minutes to detect and eliminate new threats
• Intelligence-driven for faster, fewer, shorter scans-By leveraging a unique online intelligence system, Norton™ Insight targets only those files at risk
• Blocks online identity theft-Buy, bank, and browse online wherever and whenever you want
• Secure network connections-Monitor your home network and more safely connect to Wi-Fis
• Blocks threats and hackers-Two-way firewall automatically makes security decisions for you
• Stops viruses, worms, spyware, bots, and more-Keeps your system protected against malicious threats
• Prevents virus-infected emails and instant messages from spreading-Feel secure while you keep in touch
• Blocks browser exploits and protects against infected web sites-Surf the Internet with confidence
PCMag.com has published a review of this new Norton Symantec product. Users can read it here. Norton Internet Security 2009 costs $69.99 to purchase. Users can try the Norton Internet Security 2009 Trialware version via the link here.
Update: Norton Internet Security 2010