Apple iPhone is so popular now and you can easily find some friends or colleagues to share the USB charging kit whenever your iPhone is running out of juice. However, whenever you intend to charge it using third party's PC, it will auto detect and launch the iTune program, prompting you to synchronous or backup your data that often cause inconvenience to both ends. Although you can easily ignore the process or there could already be some software solution that can be used to disable the synchronization while only allowing charging, but if you are looking for simple hardware solution with plug and play capability, then the Sync Blocker USB Cable could be the right solution for you.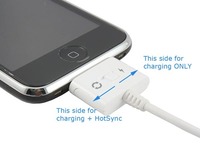 Physically, the cable resembles your original iPhone cable except that you will find a tiny toggle switch on top that allows you to switch between charging + HotSync mode and charging mode only. As self-explained, users can either choose to use the cable in normal mode (with charging + HotSync) or only in charging mode depending on situation and own preference. Occasionally you may be frustrated with the heavy iTune apps' auto detect and launch feature (even if you are connecting to your own PC) that you intend to close it especially when you just want to do normal phone charging only. Without complicated trick, I guess the cable manufacturer just innovatively disable/open-circuit the synchronizing pins, leaving only the charging pins in-contact by toggling the special built switch to the right position.
Priced at $12.99 only, the cable is already available now and it is compatible with iPhone 2G, 3G, 3Gs, iPod Touch, Classic and Nano.