For those who own or interested to get a laptop power adaptor from Targus, this piece of news could be important for you. Just recently, Comarco Inc, the manufacturer of Targus power adapter in cooperation with US CPSC (Consumer Product Safety Commission) has issued a voluntary recall of its Universal Wall Power Adapters due to burn hazard, which is affecting around 507,000 units in commercial market.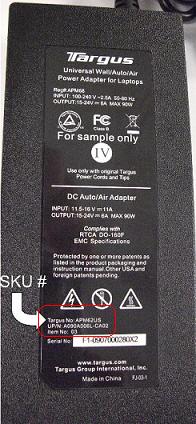 According to the report, the manufacturer has received a total of 518 incidents related to connector tips overheating, and out of that total number, 53 incidents were having plastic casings melted and around eight incidents being reported to have actual consumers' hands or fingers burn. And the root cause has been identified to be due to internal faulty wiring that could potentially generate burn hazard over time. While there are many different SKU models under Targus Universal Wall Power Adaptor, only those model numbers listed below are affected: APA23US-02/03/04, APA63US-03/04, APM62US-03/04 in which consumers can recognize it by checking on the label printed underneath the adapter. All these models are manufactured in China and has been sold since June 2009 until March 2010 at a retail price between $89 to $109 (for wall plug adapter only) or $129 to $149 (for full kit).
As an immediate action, consumers are advised to stop using the affected adapters and should proceed to contact Comarco either at toll free number (877) 781-5186 during office hour or visit its official website at www.regcen.com/comarcorecall for a free replacement.