The leading provider of the world's top-selling laptop computer cases and accessories, Targus Inc. has expanded its docking station family with the new USB 2.0 Docking Station with Video (ACP51US). It's the USB based device with video output capability that able to dock any laptop or netbook quickly and easily to numerous peripherals including external monitor, keyboard, Ethernet, mouse, printer, speakers or other USB devices in seconds, thanks to its single "One Touch" high-speed interface.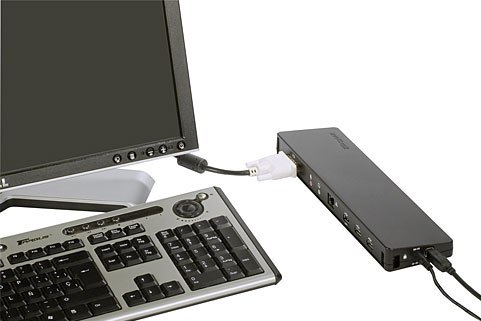 "Our newest docking station offers enhanced connectivity, which improves efficiency and the overall user experience with the ability to permanently connect all of their USB devices no matter where they are," commented Carolyn Perrier, vice president for product management and marketing at Targus. "With video output capabilities combined with an ergonomic design, cooling and high-power charging abilities, this new Targus Docking Station is the ultimate in business connectivity."
Features And Functionality Of Targus USB 2.0 Docking Station With Video (ACP51US):
Ergonomic tilt gives a comfortable typing angle and improves airflow for cooling
Familiar, fast USB 2.0 connection to your peripherals (up to 4 USB devices)
DisplayLink's latest DL-195 technology supports higher HD display resolutions up to 2048 x 1152 pixels
2 "high-power" USB ports to power or charge high-power portable devices such as a BlackBerry, iPhone/iPod or camera even if the notebook is powered down
1 Ethernet (10/100) for high speed network connections, 1 x 24 pin DVI connector, 4 x USB 2.0 and two 3.5 audio ports
"The Targus USB 2.0 Docking Station with Video featuring DisplayLink technology provides unmatched USB graphics performance and uncompromising multi-monitor computing," said Perrier. "After rigorous review and testing of DisplayLink's USB graphics solution, it was clear that DisplayLink's technology was ideal to incorporate in the next-generation of Targus docks."
Targus USB 2.0 Docking Station with Video that compatible with Windows XP, Windows Vista and Windows 7 is now available through Targus.com as well as resellers and distributors including Ingram, TechData, Synnex and CDW for an MSRP of $159.99.