Previously we mentioned about NetSetMan that can manage different set of profiles with pre-configured IP settings but if you are not truly satisfied with it, here is a good alternative that you can consider. Named as TCP/IP manager, it is a free and tiny utility that can manage up to 10 different profiles with individual TCP/IP settings suitable for both home and office environments.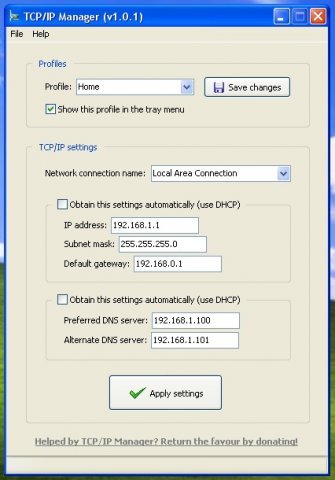 As compared to NetSetMan free version that can maintain up to six sets of profiles, the TCP/IP Manager can do slightly better by offering up to ten different profiles, far more than sufficient for lab setup as well as for those that need to frequently change network settings when switching from one environment to another. For instance, office network may require different DNS setting than being set at home and lab environment may need users to use static IP instead of DHCP and etc. Besides, instead of typing in the IP address, Subnet mask, default gateway and DSN one by one, this utility allows users to copy and paste the respective network IP addresses directly that would able to save your time and eliminate typo error when setting up new profiles. That is not all, users have option to choose specific profile to be minimized into system tray and be retrieved later by simply clicking on the icon at the system tray.
Consumed less than 500kB of your hard disk space, TCP/IP Manager is definitely a useful utility that can help you keep tracking all the different IP settings being pre-defined for different environments and allow fast switching from one network configuration to another in seconds without the need of re-typing unnecessarily.