Want to run and use Windows 7 without actually installing the operating system unto a physical machine? Microsoft is providing a test drive platform for Windows 7 which allows potential users especially IT professionals and developers to explore Windows 7 by feature and take a guided tour of Windows 7 with no installation required.

The running operating system on the Windows 7 test-drive environment is Windows 7 Professional edition, so the platform is also called Windows 7 Professional Test Drive. Within the Windows 7 Professional Test Drive website, users will have two ways to experience Windows 7 – get hands-on and actually "test drive", or simply watch videos with step-by-step walktrhough about the features. The test drive lets users to actually test and assess Windows 7 from a supported web browser through a collection of fully-featured virtual labs.
The virtual labs that available for Windows 7 tryouts includes:
Search Federation: See how Search Federation works and see how to set up search federation connector.
BranchCache: Try BranchCache and enabling BranchCache in a virtual environment.
Med-V: Learn about Med-V and enabling Med-V in a virtual environment.
BitLocker/BitLocker to Go: Learn about enabling BitLocker and BitLocker to Go encryption using group policy.
User Account Control: Controlling user access through User Account Control.
Windows Troubleshooting Platform: Observe first hand how the Windows Troubleshooting features work.
Application Compatibility Toolkit 5.5
AppCompat using Shims
Windows 7 Deployment
Internet Explorer 8
Powershell
Problem Steps Recorder
Navigation – Peek, Shake, Jump Lists
App-V
Taskbar (without the Thumbnail Preview or customer switcher due the Basic Windows 7 Video Driver used to facilitate this virtual lab)
Libraries
Version Control
Version Checking
Windows Ribbon
Sensor and Location
Windows 7 Test Drive requires IE6, IE7 or IE7 with JavaScript enabled. Users are also requested to install Virtual Server VRMC Advanced Control ActiveX. To start the Windows 7 Test Drive, just select a topic that user wants to try, and the web browser will connect to the remote server running fully functioning version of Windows 7 Professional via Remote Desktop Connection.
Some tips to make the Windows 7 test drive experience more user friendly though. For users who have never participated in a Test Drive before, you may receive a pop-up regarding authenticating via NTLM. Please check "Don't ask me again" and then click "Yes". The Test Drive is configured for the US Keyboard layout, so if you do need to send special keys, like the @ symbol, please note that is SHIFT+2 in US.
Windows 7 Test Drive can be accessed and initiated from a few link location: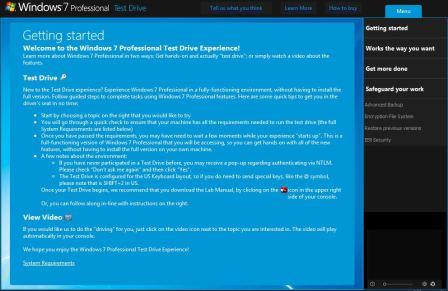 Windows 7 Professional Test Drive: http://win7pro.vlabcenter.com/ (for General Public)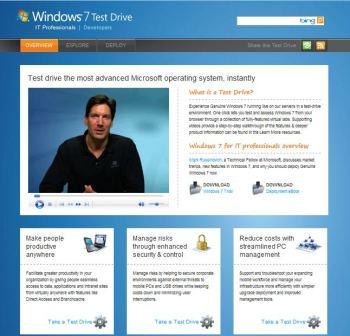 Windows 7 Test Drive for IT Professionals: http://www.microsoft.com/click/WindowsTestDrive/ITPro/
Windows 7 Test Drive for Developers: http://www.microsoft.com/click/WindowsTestDrive/Dev/
Users who interested to install Windows 7 on a physical computer or virtual machine locally can download the Windows 7 Enterprise 90-Day Trial or pre-installed Windows 7 Enterprise 90-Day Trial VHD for evaluation and trial. It's also possible to download Windows 7 ISO images to install for free 30 days activation-free period usage.