ASUS, the producer of exceptional graphical solutions, again unveils the world first real-time overclocking device for graphics cards EAH3850 OC GEAR. This model of OC GEAR bundled with AMD graphics cards in the form of the ASUS EAH3850 OC GEAR/HTDI/512M, with mirror LED display provide users real time information such as GPU temperature, current FPS, system master volume, GPU clock, Shader clock and memory clock, and user-friendly knob allows timely adjustments to switch menu option that include master volume, GPU clock, memory clock and fan speeds to suit the respective game requirement.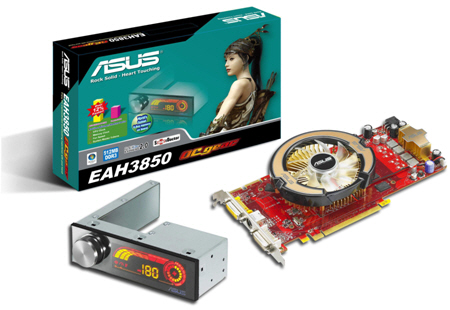 The EAH3850 OC GEAR also equipped with fastest DDR3 0.8ns memory modules that able users to enjoy with over 12% enhanced overclocking performance and gaming experiences. The high speed capabilities of the super memory modules allow boosting 3DMark06 scores from 9883 to 11259, GPU clock from 668 MHz to 840MHz and memory from 1.65GHz to 2.1 GHz.
Additionally, it also utilizes the latest thermal solution "Glaciator Fransink" to keep GPU temperatures cool by effectively transfer heat away and half quieter than the generic Fransink.