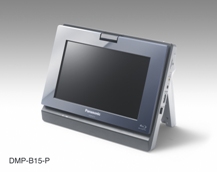 The market leader in consumer electronic products, Panasonic, has once again entered the fray in the 2009 Consumer Electronics Show (CES) by introducing the world's first portable Blu-ray Disc player DMP-B15. Being one of the main developers in the Blu-ray Disc Association (BDA), Panasonic is the pioneer in introducing a portable player for this next-generation optical disc. This DMP-B15 portable player features a high quality 8.9-inch WSVGA LCD screen together with a unique VIERA CAST™ internet accessibility and BD Live functionality. Users can make use of this player to access or view online contents, e.g. YouTube, Picasa, Amazon's video, etc.

Besides watching movies on the move, users could also use it as a standalone Blu-ray player by connecting it to an HDTV via HDMI cable. The DMP-B15 player can also be connected to an HD-Audio compatible AV receiver with a home theater speaker system to allow users to enjoy quality surround sound effects. The Panasonic portable Blue-Ray player also comes with an SD Memory Card slot which allows users to view and share digital photos, as well as HD video recorded on a SD card.
The battery for this portable player is cited to last approximately 3 hours. Thus, users can enjoy a high definition viewing experience with Blu-ray Disc player DMP-B15 while traveling.