The leading manufacturer of full range of DRAM memory modules and Flash based storage devices for computers and consumer electronics, Super Talent Technology Corporation has debuted its new Pico-C Gold, which the company claims as the world's smallest 8GB 24-carat gold plated USB Flash drive. Using chip-on-board (COB) technology, this stylish and tiny USB drive measures just 31.3mm x 12.4mm x 3.4mm and weights less than a nickel (about 4.7g).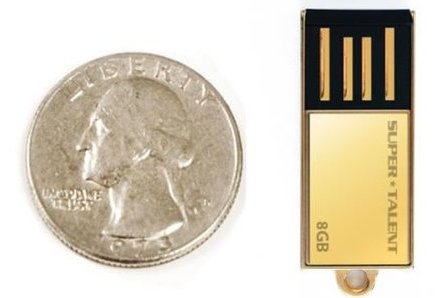 According to Super Talent, "The Pico-C Gold is shock resistant, water resistant, and has up to 200X (30MB/sec) transfer speeds. The Pico-C Gold includes a sturdy gold chain, and looks more like a fashion accessory than a high performance Flash drive."
"Is it the speed, the ruggedness, the water resistance, the incredibly tiny size or the pure elegance that people like most in our Pico-C drive? Who knows? But, this combination of features and style is not offered in any other terrestrial storage device, which makes it a real craze," said Joe James, Marketing Director of Super Talent.
The new Super Talent's 8GB Pico-C Gold drive that backed with a lifetime warranty is now available from NewBiiz and NewEgg for under $40.