Previously we mentioned about Free Disk Redactor and Disk Wipe that can securely delete confidential and sensitive data in media drives, but if you think they are still too complicated and huge size for you to perform the simple but yet important task, you may want to give this utility a trial. Named as a Tiny Shredder, it helps to clean up any selected drives completely without leaving any trace for chance of retrieval by any data recovering tool.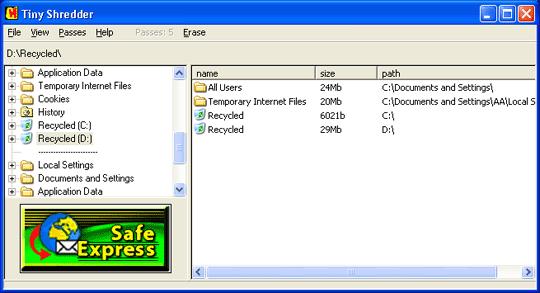 Once install and launch the utility, you will be brought to a real simple Windows Explorer-like interface. Without any setup required, users can selectively choose the desired folders or files that are intended to be deleted and by just dragging from right pane and dropping them into right pane, these folders are ready to be wiped off completely. There are numerous way of shredding methods that can be configured, either with 'one layer' or 'two layers of random data', or 'random, inverted and random' selection depending on own preference. Do take note that the wiping action cannot be reversed and so you must be very sure on the correct folders that had been dragged to the right pane. Anyway, before proceed by clicking on the 'Erase' button, users will be prompted with confirmation for deletion.
Consumed only 74kB of your hard disk space, Tiny Shredder is free for download here and is compatible to be used in any Windows system for sensitive files deletion.