e-Book reader is a new market trend with more and more manufacturers shifting their focus into it. Similarly for TI (Texas Instrument), the OMAP architecture solution provider as it has recently announced a new e-book reader development platform targeted to accelerate the migration effort to compete against other existing players in this market space.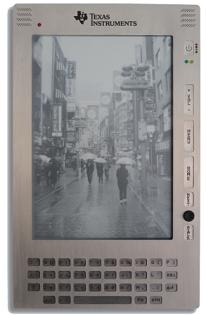 The new eBook reader platform will be powered by OMAP3621 SoC (System-on-chip), an ARM Cortex-A8 architecture that integrates powerful graphics core from Imagination Technologies' PowerVR3D graphics accelerator on top of its own proprietary C6x DSP (Digital Signal Processor) for greater multimedia and graphics performance. As expected, the new SoC, fabricated using 45-nm process technology is claimed to be thermally efficient and with its ultra small foot print of merely 12mm x 12mm, it can be fitted well for this usage where an extremely long battery life and ultra slim form factor design are required. Besides, the development platform is equipped with E-Ink Vizplex EPD (Electronic Paper Display) technology to support main display while still leaving room for dual-screen designs depending on end customer requirements. Other discrete components include the TI's TPS6518x display PMIC (Power Management IC) that has able to prolong the battery life, approximately of 50 percent improvement over other rivals' solutions with around 14,800-page flips based on a 600mAH battery. Some other enhancements include the WiLink technology that integrates Bluetooth, WiFi and FM module into single chip, making it a full complete reference platform for system designers.
The development kit is already sampling now with mass production targeted within this quarter. No pricing availability yet, the kit is compatible to run with Android and other flavors of Linux Operating Systems.