Sensai watch is more about style than telling the time. New Kisai Sensai LED aluminum watch officially putting time in the backseat and strapping a visually-intriguing array of LEDs on your wrist. Sensai is made of lightweight, high grade aluminum to ensure a comfortable feel on your wrist. With a combination of brushed and sandblasted areas, the alumite finish provides a pristine, futuristic appearance.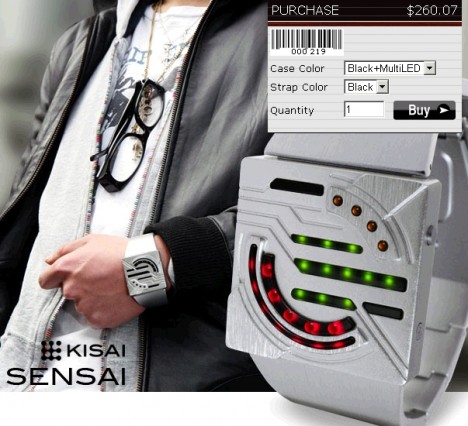 Sensai features an animation mode so that once every minute for 12 minutes after the time is displayed, the LEDs rotate on and off in a circular formation.
To view the time, you have to press a button which a series of red, yellow and green LEDs is displayed. Twelve red LEDs represent hours, eleven green LEDs represent groups of five minutes and four yellow LEDs represent single minutes. The time reading is preceeded and succeeded by a rotating LED light show. Clearly this watch is all about style.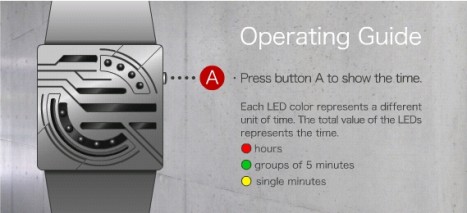 Kisai watches is a time piece that combines stunning design with precision engineering. The watch is made in limited production numbers and engraved with a unique serial number. The new Kisai Sensai aluminum LED watch from Tokyoflash is yours for $260.
Features
Displays the time
Made from high grade aluminum
LED animation mode
Energy saving mode to ensure battery longevity
Clasp: simple fold over clasp with push button
Minimum wrist size: 140 mm
Maximum wrist size: 220 mm
Case dimensions: 36 mm x 36 mm x 0.9 mm
Weight: 72 grams
Water resistance: 3ATM
Instructions: Japanese and English instructions included
Battery: CR2032 standard watch battery
Three year warranty