"Check the air filter for dirt". "The lamp life is ending. Please change the lamp". "A problem has occurred to the cooling fan. Please look at the owner's manual". "The lamp will turn on shortly. Please wait a moment". These are amongst the reminders that the mobile Toshiba's TLP-X200U projector will voice out to you when things go wrong or problems occur with your gadgets. If you have a laidback attitude towards electronic gadgets, this chatty and verbal machine is probably an ideal choice for you. It will nag you from time to time via its voice control to remind you when to carry out maintenance, how to operate certain devices, etc. Alternatively, it would make the perfect Christmas gift for someone you want to annoy or irritate. It is guaranteed to drive them up the walls.

Toshiba's TLP-X200U weighs 1.99kg and measures 11.5″ x 2.8″ x 7.6″ (W x H x D) in dimension. This compact wireless device comes with closed-caption capabilities, 3,000 ANSI lumens of brightness, a 600:1 contrast ratio and a projection distance of up to 35.9ft. It has video ports for 15-pin VGA, HDMI, and S-video. Other useful features include an auto set-up for synchronizing computer input, quick power shutdown, multi-screen, blackboard function, Windows Vista® network compatible, wired LAN / wireless LAN, Digital zoom (resizing), user logo personalization, PJLink for network control, active monitor loop through, panel lock, closed caption and password protection.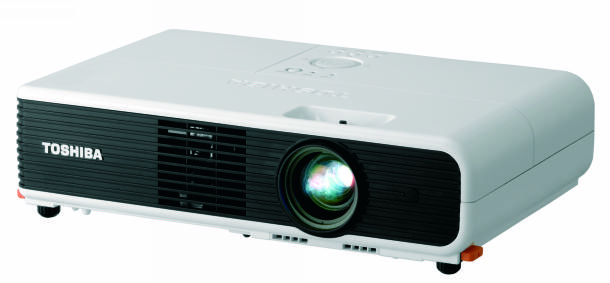 The talking projector Toshiba's TLP-X200U is definitely not cheap. The suggested retail price is about $1,739. Well, it could be worth it as a gift for someone you either love or hate to death.