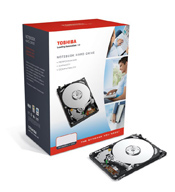 Toshiba, the Japanese company recently has unveiled two new 1.8" hard drives. One is 160GB model and another is revamped 80GB model with RPM 5400 spindle speed. The new 160GB (MK1617GSG) drive uses two platters while its new 80GB (MK8019GSG) uses a single platter as compared to the previous released 80GB in February which required two platters.


Both drives feature with 8MB buffers, 15ms seek times and 150MB/s Serial ATA interfaces with micro-SATA connectors. Toshiba also able control the noise levels of the drives at 18dB at idle and 16-22dB during seeks for the 80GB model, and 23dB for the 160GB model. It's also able to provide better power consumption and improve ruggedness over larger form factors.
Toshiba's new 80GB and 160GB HDDs will ship to PC manufacturers and distribution partners in August 2008. Toshiba expect 1.8" hard drive shipments will have 58% annual growth rate by 2012.