SATA (Serial ATA) interface becomes the trend of current memory technologies with higher bandwidth as compared to PATA (Parallel ATA). Especially for mobile market which requires higher capacity with 2.5-inch form factor, Transcend has recently unveiled a new model with SATA interface with high capacity that fits well in consumer markets for mobile storage applications.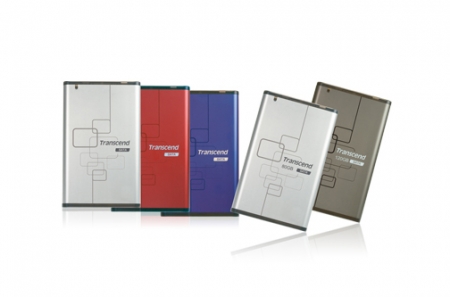 Known as StoreJet, it offers various storage capacities ranging from 120GB, 160GB and 250GB. Although it doesn't able to beat the highest capacity of 320GB offered by Toshiba, but it does have few advanced features that worth to be mentioned. The most obvious one would be the intelligent StoreJet elite 2.0 software that helps to backup data files periodically. With only one touch capability, the data such as multimedia contents like movies or pictures can be stored securely in external hard disk without hassle. Furthermore, it is compliance to USB 2.0 high speed that can transfer data at maximum of 480 Mbps.
StoreJet is compatible with most of the operating systems in the market such as Windows 2000, XP and Vista, Mac 9.0. OS and even Linux with kernel version . No pricing is available yet, but consumers will have choice of choosing models with stylish enclosure or only the hard disk itself.