The leading provider of wireless networking solution, TRENDnet has launched its new ultra-compact, high-speed Wireless N USB adapter, named as TRENDnet TEW-648UBM, which the company claims as the world's smallest 150 Mbps Micro Wi-Fi 802.11n USB adapter, employing a Wi-Fi Protected Setup (WPS) button for easy, one-touch wireless connection, without the need of entering complicated security codes.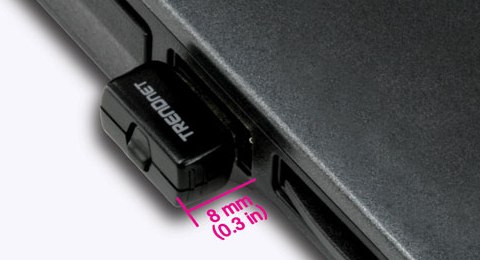 In addition, TRENDnet TEW-648UBM which features Wi-Fi Multimedia (WMM) Quality of Service (QoS) data prioritization is fully backward compatible with Wi-Fi 802.11 b/g.
"The TEW-648UBM eliminates size constraints when using wireless adapters. On-the-go users no longer have to worry about leaving their adapter plugged into their laptop," said Sonny Su, Technology Director of TRENDnet. "As well, the addition of a WPS button makes it really easy to connect to WPS enabled routers and access points."
The new tiny TRENDnet TEW-648UBM Wi-Fi (802.11n) USB adapter which measures 0.59 x 0.74 x 0.28 inches is now available for about $40.