There are not many usage models that require more than two displays simultaneously. But in case there is such requirement, Tritton's SEE2 Xtreme USB to DVI converter may be a good solution. This device enables additional displays (up to 6) to be extended through USB instead of going through limited display interfaces that tagged along in today's PC architecture.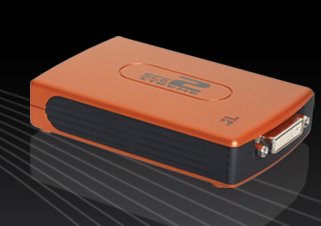 One of the scenarios when it may require more than two displays could be the central monitoring system when many different console views are needed simultaneously. Besides, if users need to run more media intensive application such as high definition video playback at bigger screen, the adapter is capable of scaling up to 1920 X 1200 with 16-bit color. If you think the color depth is low and would like to switch to 32-bit color, then 1600 X 1050 would be the maximum limit that you can hit, which is still pretty high for normal application. Just be sure that your PC has sufficient USB ports to cater for these additional display interfaces without any internal system limitation.
Good thing is, the device is not only compatible with Windows OS (Operating System) but it also works great on Mac OS system. The device is already available for purchase at $119.99.