There are multiple methods which allows you to chop YouTube video to any section as you like and share with your friends and previously we have mentioned splicd and YouTube embedded player, now there is another web application, named as TubeChop that is able to split YouTube video to any specific timeframe as preferred with user friendly interface.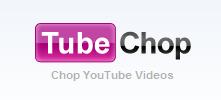 Normally it is almost impossible to remember all the URL of the video that you intend to split, so what we normally do is to go to YouTube homepage to locate the video, then only split the video clip according to the specific timeframe as we want. Now with the great feature offered by TubeChop, you can now search the video by using the keyword to locate the video easily without the need to go to YouTube to obtain the video URL. Obviously, it has saved the effort and time of locating the video URL when comparing to splicd. Beside providing the URL of playing the splitted video, TubeChop also provides embedded code which enable you to share the video in blog or website. Unlike YouTube embedded player, it doesn't required to customize the embedded URL. TubeChop has designed with user friendly interface and is very easy to use. To split the video, just drag the black bar on either side to any section as you like. Left black bar indicates start time and right black bar indicates end time of the video that you would like to split.
With the differences as highlighted on above against splicd and YouTube embedded player, TubeChop may be another good option for you to split YouTube video to any desired timeframe in more convenience way. To try using TubeChop now, click here.