The leaders in gaming headsets for PC, Xbox, Sony PS2, PS3, Nintendo Wii and Nintendo DS lite gaming consoles, Turtle Beach has announced the launch of its new Ear Force P21 stereo gaming headset for Sony PS3 (PlayStation 3), which the company claims can enhance your PS3 gaming experience with superior stereo sound and crystal-clear communication on PlayStation Network (PSN), creating exceptional audio environment for playing popular PS3 games including Call of Duty World at War, Fallout 3, Resident Evil and Guitar Hero.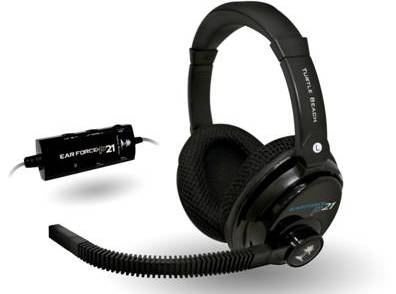 "The P21 gives PS3 gamers privacy, realism, and a competitive edge at an affordable price." said Peter Ronick, Director of Marketing. "By combining game sound with PSN online chat, PS3 gamers can now enjoy the same immersive gaming experience XBOX 360 gamers have been experiencing for years with our Ear Force XBOX headsets. They can play PS3 games any time, day or night without being disturbed or disturbing others."
The Turtle Beach's Ear Force P21 that also can be used as a versatile PC headset with an optional RCA to 3.5mm adapter is expected to hit the market in coming July for about $80.