The leading provider of high-quality audio peripherals for PC and video game platforms, Turtle Beach has announced the launch of its 3rd-generation wireless gaming headset, dubbed as Ear Force X41, which features digital RF wireless technology, 7.1 channel Dolby surround sound, XBOX LIVE Chat and tactical advantage of 3-D positional audio while playing popular XBOX 360 game titles including Call of Duty 4 Modern Warfare, HALO 3, Left 4 Dead, Grand Theft Auto IV and Guitar Hero.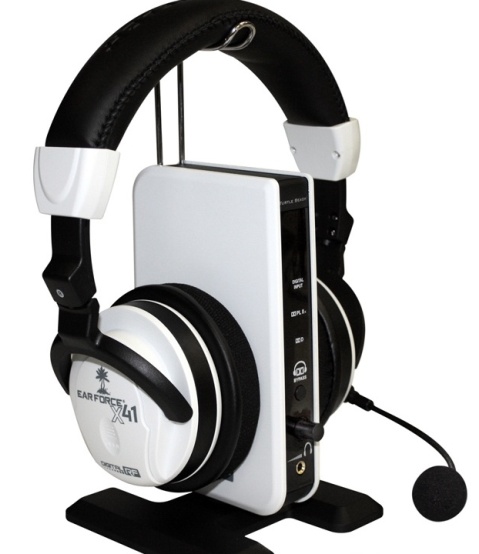 "We listened to suggestions from XBOX gamers who own our second generation wireless headset, the Ear Force X4, and decided to take the X41 to a whole new level by improving nearly every aspect of the original design." said Peter Ronick, Director of Marketing. "The X41 includes a dedicated Digital Signal Processor for creating an accurate 360 degree sound field with the latest Dolby Headphone HRTF algorithms. It provides an unprecedented sense of immersion that's further enhanced by CD-quality, uncompressed, digital RF wireless technology."
Features Of Turtle Beach Ear Force X41:
Dolby 7.1 channel surround sound aimed for improved surround sound accuracy
Digital 2.4 GHz RF wireless technology delivers CD-quality game sound and crystal-clear reception
Dolby Pro Logic IIx reproduces full-range special effects in the surround channels and enhances stereo sound
Chat Boost dynamic talkback expander automatically increases incoming chat volume during loud game sequences
Eliminates game sounds picked up by chat mic
Independent controls for game audio and chat volumes
Mic Monitor mixes your voice into the headphones so you can hear what you're saying
New "battery booster" circuit in the headset extends battery life for up to 25 hours
Heart-thumping bass boost adds sonic realism
Soft, fabric mesh cushions let users' ears breathe, adding comfort during long gaming sessions
Turtle Beach's Ear Force X41 Wireless Digital RF XBOX 360 gaming headset that incorporates oversized 50mm speakers is slated to be available at Best Buy and other major US retailers in coming September for approximately $200.