The emerging provider of premium earpieces for the consumer market, Ultimate Ears has announced the latest additions to its family of universal-fit earphones – Ultimate Ears Super.Fi 5 and Ultimate Ears Super.Fi 5vi (integrates a high-performance microphone for hands-free phone calls) earphones, which the company claims as the first products on the market with exclusive top-fire-armature speaker design, aiming to deliver enhanced audio in a comfortable and compact shape.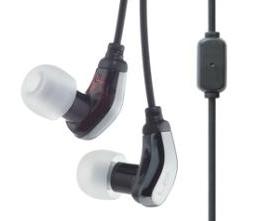 "This addition to the Super.Fi family reflects the evolution Ultimate Ears is experiencing," said Philippe Depallens, Logitech vice president and general manager of Ultimate Ears. "As we continue to grow and expand our product offering, we strive to remain on the cutting edge of the industry by developing new technologies. With the new Super.Fi 5 and Super.Fi 5vi earphones, we've created an exceptional listening experience in a sleeker design for our fashion-conscious customers."
Highlights of Ultimate Ears Super.Fi 5 and Ultimate Ears Super.Fi 5vi earphones:
Amazing top fire armature speaker producing powerful and extended high definition sound in smaller, more ergonomic form
Machined liquid-silver plastic housing providing an exceptionally comfortable fit for long listening sessions
Include 3 interchangeable soft-silicone ear tips and 2 newly introduced Comply foam ear tips aiming to deliver advanced noise reduction and increased comfort
Gold-plated 3.5 mm jack can connect to most MP3 players, stereos and laptops
According to Ultimate Ears, "The earphones' top-fire design employs a single, wideband driver to create an exceptionally accurate sound tuned for a wide range of musical genres. With a frequency response range of 15 Hz to 15 kHz and a top sound pressure level (SPL) of 115 dB, the earphones accurately reproduce bass-thumping hip hop, the lush timbres of jazz vocals as well as the rich palette of symphonic music. The custom armature houses a proprietary tuned filter that shapes the sound for maximum effect, delivering detailed bass and crisp, clean mids and highs."
The new Ultimate Ears Super.Fi 5 and Ultimate Ears Super.Fi 5vi earphones are now available for about $170 and $190, respectively.