The emerging provider of premium earphones and headsets for the consumer market, Ultimate Ears has launched the newest addition to its universal-fit, studio-quality family – Ultimate Ears TripleFi 10vi earphones, which features a proprietary triple-speaker configuration and in-line miniature microphone, aiming to deliver a live-in-studio listening experience for iPhone and BlackBerry mobile devices.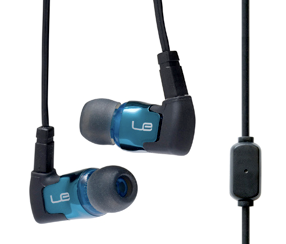 "The expanding popularity of iPhone and BlackBerry devices spurred us to introduce a universal-fit product that would offer an unparalleled listening experience, as well as make it easy to take phone calls," said Philippe Depallens, Logitech vice president and general manager of Ultimate Ears. "Now, whether you're taking a call with a client or listening to your favorite song, the TripleFi 10vi earphones will make everything sound as if you're in the same room – with your client or your favorite band."
Features Of Ultimate Ears Triple.Fi 10vi Earphones:
Dual precision balanced armatures for low and mid range frequencies
Audio filters to shape sound signature
Integrated passive crossover circuit board to direct sound frequencies to the appropriate speakers
Single precision balanced armature for high frequencies
Multi-function button that answers/ends phone calls and controls music/video
The new Ultimate Ears TripleFi 10vi earphones that come with a ¼-inch adapter jack, cleaning tool, sound-level attenuator, extender cable and compact metal storage case are now available for about $420.